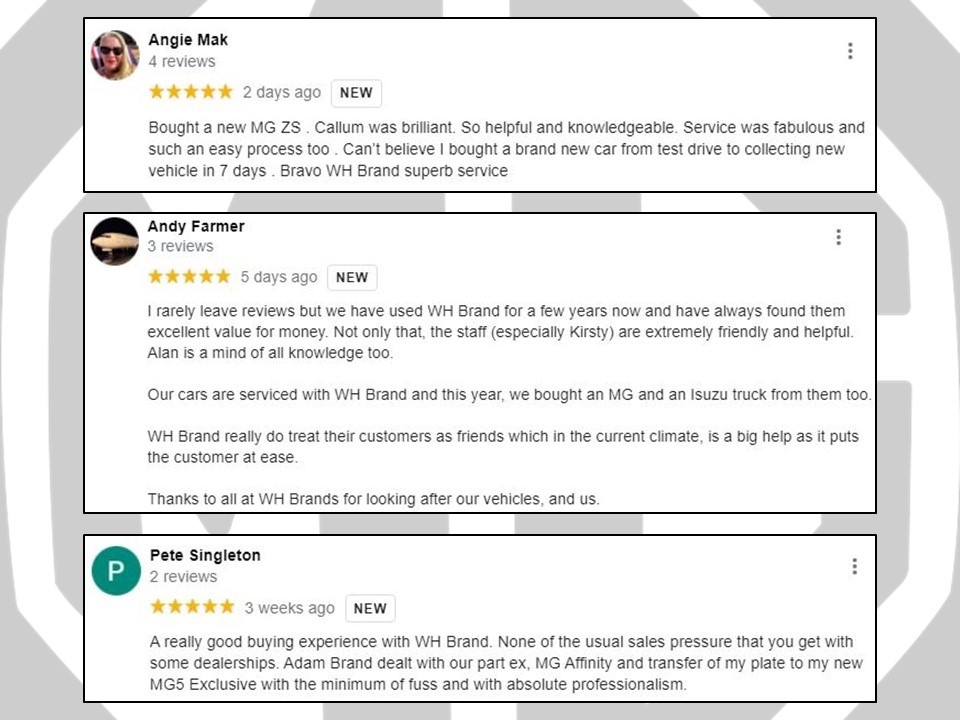 A handful of our most recent Google reviews...
If you have used any of a services recently, a review of your experience would be very appreciated.
This can be done by searching 'W H Brand' in Google and selecting reviews, or by following the link below.
https://www.google.com/search?q=w%20h%20brand&rlz=1C1CHBF_en-GBGB754GB754&oq=w%20h%20brand&aqs=chrome..69i57j46i175i199j0j0i390j69i60l2j69i65.2798j0j7&sourceid=chrome&ie=UTF-8&fbclid=IwAR0LhzI0djKYg-9yhOkTuR_ewxPNIFYbrGIUb9LBYfdCx01KDNu3mUoQhU0#lrd=0x4877ff81e77c12d3:0x35e8a180dcfe241d,3
Thank you
Latest News
31-05-2022
Seen here collecting their MG HS Exclusive in the all-new Holborn Blue! …
Read more >
26-05-2022
Our opening hours for the upcoming Platinum Jubilee Bank Holiday.
Read more >
25-05-2022
01406 330265 sales@whbrand.co.uk www.whbrand.co.uk
Read more >